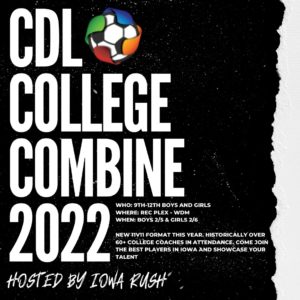 Iowa Rush College Combine collaborates with 9 additional clubs to form the first ever CDL COLLEGE COMBINE on February 5th and 6th, 2022.  The vision of the CDL College Combine is to provide opportunity and exposure to all players who have ambition to play at the collegiate level.  
*This event is open to ALL players (Not dependent on club or association) and each player registers independently.
The event will attract over 180 girls on Saturday, February 5th and 180 boys on Sunday, February 6th in an 11v11 format at the brand new Rec Plex facility in West Des Moines, IA.
The 8 year history of the Iowa Rush College Combine has attracted more than 50+ college coaches throughout the weekend from all levels (NCAA DI, DII, DII, NAIA, JUCO) over 200 players from Iowa, Nebraska, Minnesota, Wisconsin, Kansas, Illinois, and Missouri.  
The CDL College combine will provide even better quality of play, facilities, organization, and opportunities that will lead to a worthwhile player experience.  This environment creates an efficient event for all college coaches to evaluate talent and recruit quality student athletes.
Details and Registration to this event can be viewed on the CDL website HERE or the Iowa Rush website HERE.
Additional CDL college showcase and exposure opportunities will be released at a later date.
CDL member clubs: Ames, Cedar Valley, CRSA, FC United, Iowa Rush, ISC, Pearl City, Sporting Iowa and VSA.