CDL College Combine 2022
Mid-American Energy Company RecPlex, West Des Moines, IA
February 5th (Girls) & February 6th (Boys)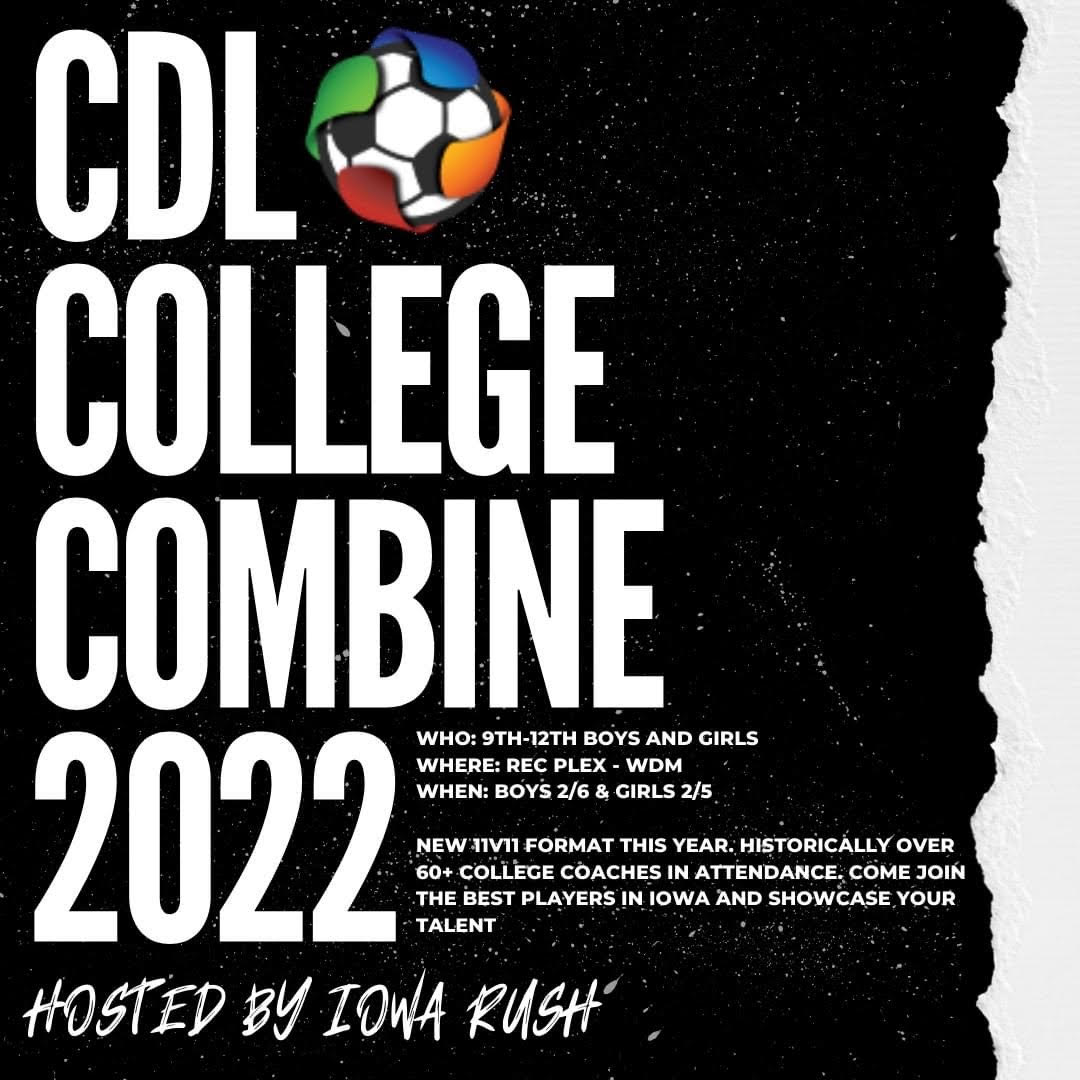 2022 EVENT DETAILS
When: Saturday, February 5th (Women)
Sunday, February 6th (Men)
Where: MidAmerican Rec Plex
6500 Grand Avenue
West Des Moines, IA 50266
Time: TBD
REGISTRATION DETAILS
Open to graduation classes: 2022-2025
Players sign up individually
$70.00 online registration fee for all players
COMBINE FORMAT
1-hour college coach panel about recruitment process.
Players will be organized into teams by the Iowa Rush staff. (Team roster numbers will be 13-15.)
Games will be played 11v11 on a full-sized turf field.
Game length will be 30 minutes with each team getting a minimum of three games.
One game played at a time, every college coach is watching your game.
College Coaches receive meals on site to ensure they can watch games throughout the
whole day.
There is a "Coaches Balcony" at the RecPlex for meetings, food, & beverages.
Team & Player Profiles provided
to all
College coaches.
Tournament information will be sent to registered players starting in
mid-December.
Players will be encouraged to notify the colleges of their choice prior to the combine.
ADDITIONAL INFORMATION
The Iowa Rush College Combine is collaborating with 9 additional clubs to form the first ever CDL COLLEGE COMBINE on February 5th and 6th, 2022.  The vision of the CDL College Combine is to provide opportunity and exposure to all players who have ambition to play at the collegiate level.  

This event is open to ALL players (Not dependent on club or association) and each player registers independently.

The event will attract over 180 girls on Saturday, February 5th and 180 boys on Sunday, February 6th in an 11v11 format at the brand new Rec Plex facility in West Des Moines, IA.
The 8 year history of the Iowa Rush College Combine has attracted more than 50+ college coaches throughout the weekend from all levels (NCAA DI, DII, DII, NAIA, JUCO) over 200 players from Iowa, Nebraska, Minnesota, Wisconsin, Kansas, Illinois, and Missouri.  
The CDL College combine will provide even better quality of play, facilities, organization, and opportunities that will lead to a worthwhile player experience.  This environment creates an efficient event for all college coaches to evaluate talent and recruit quality student athletes.

Details and registration to this event can be viewed on the CDL website

HERE

or the Iowa Rush website

HERE.
Additional CDL college showcase and exposure opportunities will be released at a later date.
CDL Member Clubs:
Ames, Cedar Valley, CRSA, FC United, Iowa Rush, ISC, Pearl City, Sporting Iowa and VSA
CDL Connection
Stay up to date on the latest CDL programming news, schedule and field updates, event information, and more by connecting with us on social media.